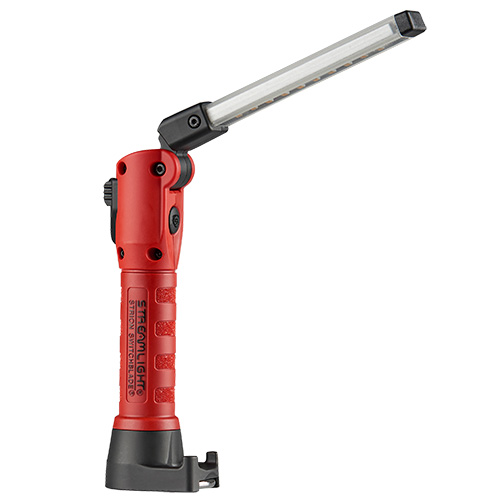 The Streamlight Strion Switchblade® is a rechargeable work light with bright cool white output, 90 CRI output and UV (ultraviolet) output modes. 90 CRI is a measurement on the Color Rendering Index that indicates the light output is more like natural light. 90 CRI means that the output is good for distinguishing color. So, if you need to match paint or see various wire colors, the Strion Switchblade worklight is a great choice for you. UV light is useful for HVAC, pest detection and more. The light blade tilts and the base is magnetic. It also has a hanging hook that folds into the base when not needed. The Strion Switchblade runs on the same battery as the Strion flashlight, and it can also use the same snap-in charger. It is available with a PiggyBack charger that includes a spare battery. With the PiggyBack charger you can double your runtime. Alternately, the Strion Switchblade has a micro USB charging port. So it can also be charged using a USB cable (USB-A to micro USB).
The Streamlight Flipmate™ is more compact measuring just 4.5″ tall when folded. It has a cool white mode with 2 brightness levels and a 90 CRI mode with 2 brightness levels. The 90 CRI side of the blade provides more natural color light that allows you to distinguish color. The Flipmate has a magnetic base and a hanging hook that folds into the base. The Flipmate is USB rechargeable only – there is not charging bracket option for this model. This rechargeable worklight is very durable , and the magnetic base is exceptionally strong. It's also water resistant.
The Streamlight Syclone® is the most compact of the three work lights. The light pivots in the base. The base also has a strong magnet for attaching to metal surfaces and a fold-away hanging hook. It also has multiple brightness levels with both cool white and 90 CRI modes. Cool white is more of a spot beam and the 90 CRI output is floody. The Syclone is USB rechargeable and measures less than 3″ tall. So if you are in the market for an ultra compact worklight, the Syclone is a great choice.