Jul 30, 2014
LED Lenser M3R Flashlight Review
The LED Lenser M3R Flashlight is the latest to push the boundaries of size and power.  The M3R produces an incredible 220 lumens in a compact AAA battery size.  But the best feature of the LED Lenser M3R, in our opinion, is the one-handed adjustable focus.  This gives you the flexibility of having a tightly focused, long distance flashlight and a work light in one.
LED Lenser M3R Flashlight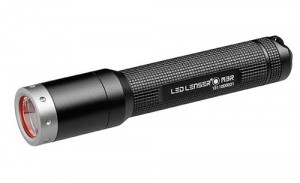 Output: 220 lumens high, 20 lumens low
Run time: 2 hours high, 6 hours low
Battery type: Lithium-ion rechargeable (included) OR 1 x AAA alkaline or NiMH
Beam distance: 426 feet (130 meters)
Dimensions: 3.9″ long x 0.78″ head diameter x 0.64″ body diameter
MSRP: $80.00
If you are looking for an adjustable focus pocket flashlight, look no further than the LED Lenser M3R.  Its compact 3.9″ size and pocket clip make it easy to carry around without dragging you down.  As you can see from the video above, the adjustable focus feature is easy to use and truly makes a difference when you are hard at work in the field.  We also really like the ability to use different batteries with the LED Lenser M3R.  You can use the included USB rechargeable lithium-ion battery, a AAA alkaline battery, or a AAA NiMH rechargeable battery.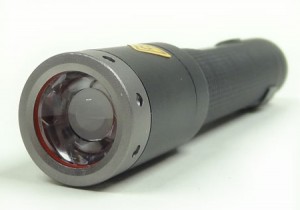 We are very impressed by the beam range on the M3R.  For a small pocket light, it is very impressive beam distance of 426 feet.  This is due in large part to the adjustable focus, which allows you to concentrate the beam to get the longest throw.
The LED Lenser M3R Flashlight is available for purchase on BrightGuy.com.  BrightGuy stocks over 500 different flashlights and is an authorized distributor for LED Lenser, Streamlight, SureFire, Fenix, Maglite, Princeton Tec, ZebraLight, Nitecore and more.