Aug 21, 2014
Streamlight Double Clutch Headlamp Announcement
Worldwide lighting manufacturer Streamlight has just announced the latest headlamp that you need to add to your collection – the Streamlight Double Clutch USB Headlamp.  This is the first USB Rechargeable headlamp from Streamlight, and it follows right on the heels of the popular Stylus Pro USB penlight that was released earlier this year.  Let's take a closer look at the specifications for the Streamlight Double Clutch USB:
Streamlight Double Clutch USB Headlamp
Output: 125 lumens high, 30 lumens low
Run time: 3.5 hours high, 10 hours low (with included rechargeable battery)
Battery type: lithium-polymer rechargeable (included) OR 3 x AAA alkaline or lithium
Beam distance: 269 feet (82 m) maximum
Beam type: adjustable spot or flood
MSRP: $75.00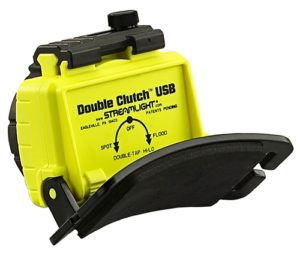 One of the most unique things about the Streamlight Double Clutch USB Headlamp (and how it got its namesake) is the switching system.  It doesn't have the standard pushbutton switch.  You actually twist the bezel to turn the headlamp on.  To change the brightness level, you twist the bezel twice fast.  The Double Clutch headlamp will always turn on in the last brightness level used, meaning you can choose to have easy access to either the high or low beam.  Twisting the bezel is also how you choose between the spot and flood beam pattern.  Twist the bezel clockwise for a flood beam or counterclockwise for a spot beam.  The innovative twist functionality makes the Double Clutch easy to operate even with gloves on.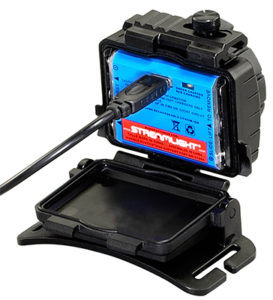 Another nice feature of the Streamlight Double Clutch headlamp is the dual-fuel battery options.  A USB-rechargeable lithium-polymer battery is included, but you can also power it with three AAA alkaline or AAA lithium batteries.  That gives you a backup option if you are going on a long trip or have a shift without easy access to a charger.
The Streamlight Double Clutch headlamp will begin shipping in late September.  You can pre-order now from BrightGuy.com!  BrightGuy stocks over 500 different flashlights and headlamps and is an authorized distributor for Streamlight, LED Lenser, SureFire, Fenix, Maglite, Princeton Tec, ZebraLight, Nitecore and more.