Oct 14, 2014
Streamlight Survivor Updated Design
Flashlight manufacturer Streamlight has just announced a big update to one of their core lighting products – the Streamlight Survivor®.  The Survivor is right angle LED flashlight specifically designed for Firefighters.  The tightly focused beam is ideal for cutting through smoke without adding glare.  The updated Streamlight Survivor has a new low-profile design and improved optic with optional Smoke-Cutter® plugs.  Let's get a look at the specifications:
 Streamlight Survivor Right-Angle Light
Output: 175 lumens high, 60 lumens low
Run time: 3.5 hours high, 13 hours low (on rechargeable battery)
Battery type: NiCd rechargeable battery pack OR 4 x AA alkaline
Beam distance: 1328 feet (405 m) high, 777 feet (237 m) low
MSRP: From $99.64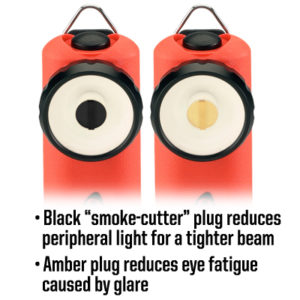 One of the most interesting new features of the updated Streamlight Survivor is the new TIR (Total Internal Reflection) optic and additional Smoke-Cutter plugs to modify the beam to your preferences.  You can use either the black plug, which reduces the peripheral light for a tighter beam pattern, or the amber plug, which reduces peripheral light and glare.  The plugs are interchangeable and optional, so you can choose to use either one or not to use a plug at all if you prefer.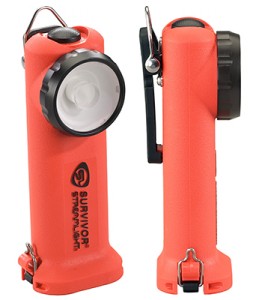 The biggest change to the Streamlight Survivor is the new low profile design.  The old Survivor LED design had a large reflector that stuck out about 1.75″ from the body.  The new design will only stick out about 1″ from the body, so it won't interfere with gear or other equipment.  Even with the new slimmed-down design, the performance has improved – the intensity rating went up from 36,000 candela to 41,000 candela, and the beam distance improved to 1,328 feet.
We are very excited to see the updated Streamlight Survivor in action, and we will post a video review as soon as we can.  The updated lights are expected to start shipping this month, October 2014.  The new Streamlight Survivor will be available for purchase on BrightGuy.com!  BrightGuy stocks over 500 different flashlights and headlamps and is an authorized distributor for Streamlight, LED Lenser, SureFire, Fenix, Maglite, Princeton Tec, ZebraLight, Nitecore and more.