Aug 13, 2014
Top 5 Best Flashlights for Kids
Here at Flashlight University, we mostly cater to the serious professional who depends on a flashlight for his or her livelihood and safety.  But we also believe it's important for kids to be exposed to quality lighting tools at a young ago so they can learn to use them properly and have fun!  Here's a list of our top five best flashlights for kids.
Best Kid's Headlamp: The Princeton Tec Byte Headlamp
The Princeton Tec Byte tops our list of best kid's headlamps for many reasons, but what makes it stand out most of all is the value.  The bottom line is that this is a high quality, made in the USA headlamp for under $20.  The performance is decent, and it's especially suited for camping or nighttime reading with both a white and a red LED.  The Princeton Tec Byte is rated at 50 lumens, which is perfectly fine for most up close tasks.  It has two brightness levels in white and one in red, giving you plenty of lighting options.  Just stick in two AAA batteries, and you're ready to go!
Best General Purpose Light for Kids: The Mini Maglite Pro+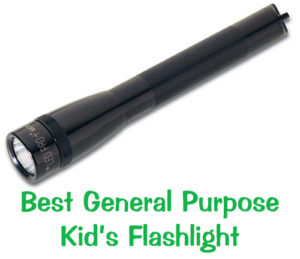 Our pick for the best general purpose flashlight for kids is the Mini Maglite Pro+ LED flashlight.  This flashlight stands out because of its simplicity, performance, and reasonable price.  The performance is great – two brightness levels with 245 lumens in high and 61 lumens in low on two AA batteries.  We love the simple twist head design to turn the Mini Maglite Pro+ on and off.  The kids will certainly get a kick out of how to change the brightness – just point the flashlight downward and it will come on in low.  Point it any other direction, and it will come on in high.  How cool is that?!
Best Kid's Lantern: The Energizer Fusion LED Pop-up Lantern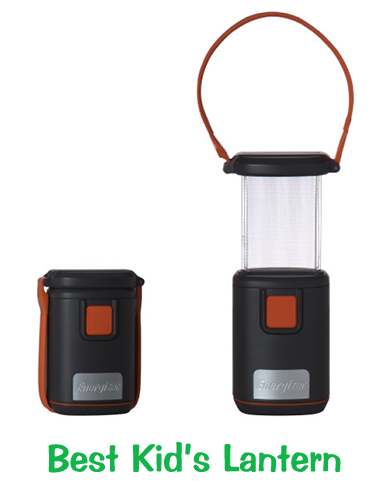 The Energizer Fusion LED Pop-up lantern is so darn cute, it's no wonder that it made it to the top of our kid's list!  But don't let the cute exterior fool you – this lantern has power.  It produces 150 lumens on four AA batteries and can run for up to 100 hours in the lowest brightness level.  The brightness is also dimmable if you just press and hold the on/off switch.  One of the coolest things about the Energizer Pop-up lantern is that it can collapse down to just 4″ tall, and it has an integrated rubber carry handle.
Best Kid's Glow Stick: The Dorcy LED Flashlight and Glow Wand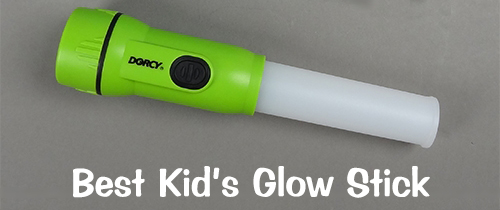 We all know it – kids love glow sticks.  But did you know that there are reusable, battery operated glow sticks?  And better yet, they are combined with flashlights to give you so much more usefulness in one!  Our favorite glow stick for kids (and adults alike) is the Dorcy LED Flashlight and Glow Wand.  This flashlight is great because it combines an LED flashlight, colored glow wand, and safety flasher all in one.  It comes in your choice of three different colors – blue, green, or red – perfect for matching to Halloween costumes!  Speaking of Halloween, check out our Halloween Safety LED Lights for Kids video on our YouTube page!
Best Kid's Safety Light: The Nite Ize ClipLit LED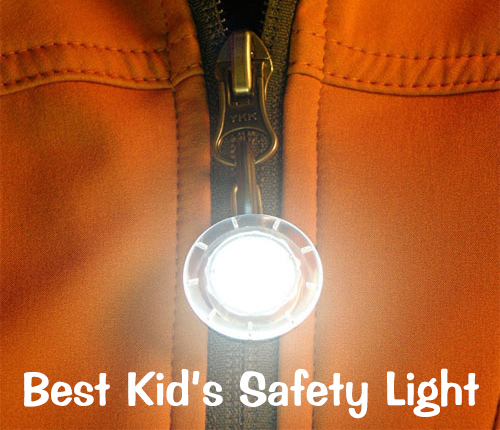 While flashlights, lanterns, glow sticks, etc can and should be used for fun, LEDs can also serve a more important purpose of making you visible to passing cars or people.  The Nite Ize ClipLit LED is our top choice for the best safety marking light for kids.  We love it because it's small, can be clipped to mostly anything, and is very easy on the wallet at just $2.50 each!  You have a choice of two color options – a white LED which is bright enough to navigate a path in the dark, or a red LED which is great for making you visible.  The Nite Ize ClipLit will run for up to 24 hours on a replaceable coin cell lithium battery.