Jul 25, 2014
Fenix TK32 Flashlight Video Review
The Fenix TK32 is an innovative long range flashlight in a compact 6.3 inch body.  The TK32 gives you all the power of the popular Fenix TK35 flashlight while using only half the batteries.  Let's take a closer look at the impressive specifications.
Fenix TK32 Flashlight
Output: 900 lumens turbo, 400 lumens high, 130 lumens medium, 10 lumens low
Run time: 1.5 hours high, 3.75 hours medium, 13 hours medium, 150 hours low
Battery type: 2 x CR123 lithium or 1 x 18650 lithium-ion rechargeable
Beam distance: 1,312 feet (400 meters)
LED: White Cree XM-L2 (U2), red, green, and blue LED
Dimensions: 6.3″ long x 2.0″ head diameter x 1.0″ body diameter
MSRP: $94.95
By far the most impressive feature of the Fenix TK32 is the focused beam.  It shines for 1,312 feet – almost a quarter of a mile!  We've never seen a pocket light with that kind of distance before.  The option of the red, blue, and green LEDs is nice if you plan to use the TK32 for camping or hunting.  We explain the benefits of having different colored LEDs in our article LED Colors and Uses.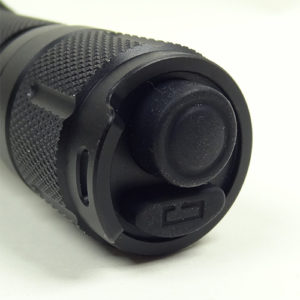 The Fenix TK32 has a tactical style tail switch with a separate mode switch on the tail to change the brightness level.  This is a departure from Fenix's traditional tail switch/side switch combination and is meant to make one-handed operation of the TK32 easier.
We really like the instant access to the red LED – just press and hold the mode switch from off for a momentary red output.  This feature makes sense because if you are using the red LED because you want to preserve your night vision, you don't want to have to scroll through a bright white LED first.
Overall, we would definitely recommend the Fenix TK32 flashlight to those looking for a compact searchlight.  The beam works very well for long range applications, but might be too concentrated for more up close work.
The Fenix TK32 flashlight is available for purchase on BrightGuy.com.  BrightGuy stocks over 500 different flashlights and dive lights and is an authorized distributor for Streamlight, SureFire, Fenix, Maglite, Princeton Tec, ZebraLight, LED Lenser, Nitecore and more.