One of our favorite lights here at Flashlight University is the Streamlight Knucklehead Work Light.  With the newly released "Spot" version, this light has just catapulted to the top of our list.  We wanted to celebrate this unique flashlight with its own featured review.
There are currently 3 different models of the Knucklehead work light.  The original Knucklehead with the yellow body has a broad beam pattern and an integrated hook for hands-free lighting.  The Knucklehead with Clip has the same broad beam pattern, but it has an orange body and a spring loaded alligator clip instead of a hook.  The Knucklehead Spot is the newest addition to this flashlight line.  It has the same body design as the Knucklehead with Clip, but it has a single LED with a deep reflector to produce a tightly focused beam.  Here is a rundown of all the best features of the Knucklehead flashlights: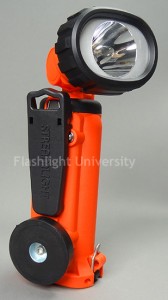 Rotating Head:
The most important feature that makes the Streamlight Knucklehead so versatile is the 360 degree rotating head.  The rotation is very smooth, unlike other flashlights – and you really have the full degree of motion because there are no "preset" ratcheted positions to land in.  This fluid range of motion allows you to aim the light exactly where you want it to be.
Hands-free Lighting:
The Knucklehead also comes with some nice hands-free lighting options.  The original version of the Knucklehead comes with an attached hook so you can hang the light upside down when needed.  The two newer versions of the Knucklehead – the Knucklehead with Clip and the Knucklehead Spot – both come with sturdy spring-loaded alligator clips in place of the hook.  The clip is designed to fit on the turnout coat of a fireman, but it can also easily clip to your pocket.  All of the Knucklehead models are equipped with a powerful removable magnet – and when I say powerful, I mean it.  It has a 135 lb. pull strength – enough to make it really stick to the hood of the car you are working on. 
*ProTip: When you first unpack your flashlight, you will notice that there is a metal disk attached to the magnet for protection.  You need to remove this disk before you can start using the magnet at full strength.
Beam Pattern:
Both the original Knucklehead Work Light and the Knucklehead with Clip have 2 LEDs that produce a very wide, even beam pattern.  This is great when you need to light up a large area like a campsite, under the body of a car, or during a power outage.  The newest member of the Knucklehead family – the Spot version – has a single LED with a smooth, deep set reflector for a more concentrated and long range beam.  This model would be more suited towards firefighters or utility workers who need a more focused beam of light.
Power Source:
Each version of the Knucklehead has several power source options, beginning with the battery chemistry.  You can choose between a regular alkaline battery model or a NiCD rechargeable model.  The alkaline model is great for casual flashlight users – if you won't be needing the light every day.  The rechargeable model is better for people who rely on their flashlight daily, like auto mechanics or firefighters.
*ProTip: All of the rechargeable models come with an alkaline battery tray.  They can be operated on 4AA alkaline batteries as well as the rechargeable battery.
Along with the rechargeable models, you have a variety of different charging options:
No chargers: great for people who already own a rechargeable Knucklehead or Survivor LED and want to use the same chargers for both lights.  The Knucklehead, Knucklehead with Clip, Knucklehead Spot, and Streamlight Survivor LED all use the same batteries and chargers.  The "no chargers" option does include a NiCD rechargeable battery.
AC (home) charging cord, 1 charge bracket: This option comes with 1 110V AC charge cord and 1 charging cradle.
DC (car) charging cord, 1 charge bracket: This option comes with one 12V DC car charge cord and 1 charging cradle.
AC & DC charging cords, 1 charge bracket: This option comes with both the home and car charge cords, but only 1 charging bracket.  This is great for people who want to be able to charge their light both in their home/worksite and in their car.
AC charging cord, 1 FAST charge bracket: This option is for people who need to quickly recharge their light.  The fast charge bracket fully recharges your light in 1 hour (the steady charge bracket takes 10 hours).
DC charging cord, 1 FAST charge bracket: Includes a car charging cord and a fast charging bracket.
AC & DC charging cords, 1 PiggyBack charge bracket, 1 spare battery: This option includes both the home and car charging cords.  The "PiggyBack" charger lets you charge both your flashlight and a spare battery at the same time.  With this option, you actually get 2 batteries for your flashlight, so you can always have a spare charged and ready to go.
AC charging cord, 1 PiggyBack FAST charge bracket, 1 spare battery: This option includes a home charger and a FAST PiggyBack charger.  This will fully recharge your flashlight in 1 hour and the spare battery will fully charge at the standard rate (10 hours).
We have also created a video demonstration of the Streamlight Knucklehead line to show off all of their best features:

Well, that about does it.  We think that this light is one of the coolest lights on the planet.  The Knucklehead has so much versatility – it can be used by anyone from utility workers, auto mechanics, plumbers, firefighters, and flashlight enthusiasts alike.  If you ever need a flashlight, you can probably find a way to use the Streamlight Knucklehead.
The Streamlight Knucklehead LED Work Light, Knucklehead with Clip, and Knucklehead Spot are all available for purchase on BrightGuy.com.  BrightGuy stocks over 450 types of flashlights and is an authorized distributor for Streamlight, SureFire, Fenix, Underwater Kinetics, Princeton Tec, Petzl, LED Lenser, Pelican, and more.