Jun 25, 2014
Streamlight Portable Scene Light Video Review
We were really excited to try out the latest flashlight from Streamlight – the new Streamlight Portable Scene Light – and it certainly delivered on our expectations!  Streamlight really took the time to design all aspects of the Portable Scene Light – from the easily adjustable beam pattern to the quick 30 second deployment.
Streamlight Portable Scene Light
Output: 3,600 lumens high, 2,400 lumens medium, 1,100 lumens low
Run time: 5 hours high, 9 hours medium, 18 hours low
Beam distance: 1,154 feet (352 meters)
Battery type: 2 x rechargeable sealed lead acid batteries
Height: Extendable up to 72″ tall
Weight: 25 lbs with batteries
MSRP: $999.00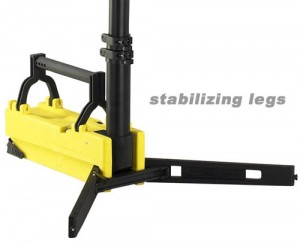 The Streamlight Portable Scene Light has so many nicely designed features, it's hard to pick just one to be our favorite.  But if we have to choose, it would be the ultra-easy set up.  Just remove the pin that holds the handle together, lift up the light head, and extend the pole to the desired height.  The Streamlight Scene Light also has stabilization legs that can be deployed for added stability on uneven surfaces.
The Streamlight Portable Scene Light weighs in at a hefty 25 lbs.  That added weight provides stability without being too heavy to carry around.  In its most compact form, the Scene Light measures just 22″ long, so it's easy to stow for transport.
We also really like how easy it is to change between brightness levels.  On older Streamlight Liteboxes, you had to disassemble the head and move a jumper to change between high and low.  But on the new Portable Scene Light, there is a simple pushbutton switch on the lens to change between high, medium, and low.  We also like the selectable beam width feature.  This way you can have both a spot and a flood beam in the same light!
We truly think that Streamlight has designed a winner with the Portable Scene Light.  Expected for a summer 2014 release, the Streamlight Portable Scene Light will be available for purchase on BrightGuy.com.  BrightGuy stocks over 500 different flashlights and area lights and is an authorized distributor for Streamlight, SureFire, Fenix, Maglite, Princeton Tec, Petzl, LED Lenser, Nitecore and more.