May 30, 2014
SureFire E1D LED Defender Flashlight Review
The SureFire E1D LED Defender flashlight is SureFire's smallest self-defense flashlight to date.  Modified from the design of the popular SureFire E2D LED Defender ULTRA flashlight, the E1D gives you an impressive performance in a significantly smaller package.
SureFire E1D LED Defender Flashlight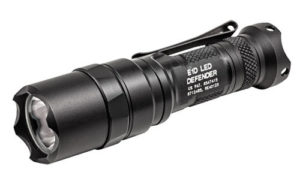 Output: 300 lumens high, 5 lumens low
Run time: 1.3 hours high, 47 hours low
Battery type: 1 x CR123A 3V lithium battery
Length: 4.26″ long
Origin country: Made in the USA
MSRP: $240.00
What impressed us most about the SureFire E1D LED Defender flashlight is the durable construction and small size.  The Defender features a crenelated strike bezel that you can use as a self defense tool in an emergency, but it's still small enough to fit into your pocket.  The 300 lumen output is also impressive.  Because of the TIR optics, the SureFire E1D has a balanced beam pattern with a fairly focused center hotspot.  The build quality is excellent, as you would expect with any SureFire flashlight.
If you are looking for a high quality pocket light that can also be used for self defense, the SureFire E1D LED Defender is a great option!  It is available for purchase on BrightGuy.com.  BrightGuy stocks over 500 different flashlights and is an authorized distributor for Streamlight, SureFire, Fenix, Maglite, Princeton Tec, Petzl, LED Lenser, Nitecore and more.